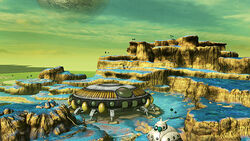 The Maima Region is the place where Frieza's spaceship touched down on Planet Namek. Vegeta and Goku were healed here by medical machines there.
You can RP and battle here. If you want to battle, enter your name in one of the battle slots below and announce you want to battle in the comments, or on a users' message wall. Add more slots if necessary.
Battle Slot 1
Battle Slot 2
Ad blocker interference detected!
Wikia is a free-to-use site that makes money from advertising. We have a modified experience for viewers using ad blockers

Wikia is not accessible if you've made further modifications. Remove the custom ad blocker rule(s) and the page will load as expected.